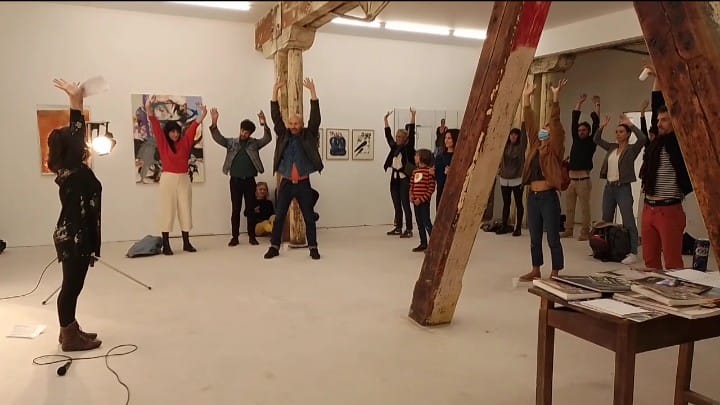 Borbor Studio, Marseille  © C. Bouissou
META-PHYSICS
performance
indoor or outdoor venue, space
duration variable approx. 20min
Homage to Ghérasim Lucas.
series of gymnastic movements and spatialized gestures
associated with anguish, death, life... "Meta-physics" transcends, makes anguish fly, stretches life above the void and makes one shiver, letting ideas and life rub shoulders...
"1, 2 , 1, 2 ... in rhythm! "
Performance is common to both sport and art and "Méta-physics" brings together physics and metaphysics, inviting us to move with and around metaphysical concepts. Caroline Bouissou adapts the poem by G. Lucas to performance and makes us work our muscles, breathing, heartbeats...
In a marked health context where the pandemic has raised fundamental questions and changed our lives. The introduction of health measures that are difficult to understand, the distance between us or through screens, the bans and the fear of contagion have transformed our relationship with the world.
Performed for
"Painting borborygme show
Borbor studios, Marseille
an invitation by Christophe Boursault & Mathieu Montchamp
with
Boban Andjekovik, Dominique Angel, Frédéric Arcos, Georges Autard, Gilles Benistri, Nicolas Bonessa, Christophe Boursault, Pierre Laurent Cassière, Pierre Chanoine, Batiste Chave, Emy Chauveau, Claire Colin, Colin, Armelle de Sainte Marie, Nicolas Desplats, Raynald Diez, Angela Freresn Laurent Galland, Olivier Huard, Nathalie Hugues, Marcel Huppaüf, Pascale Lefebvre, Laurent le Forban, Mister Post, Pierre Monestier, Matthieu Montchamps, Raphaelle Pauper-Borne, Florence Louisse Petetin, Didier Petit, Nicolas Pincemin, Noémie Privat, Hélène Segura, Françoise Sémiramoth, Vincent Sojic, Julia Scalbert, Suzanne Strassmann, Caroline Sury, Monika Trojan Delfine Trouche, Paul Vergier, Caroline Vicquenault, Pascal Vochelet, Shingo Yoshida...
SEE TOO :
- Détermination aveugle
- Mme Madi
- Tune you