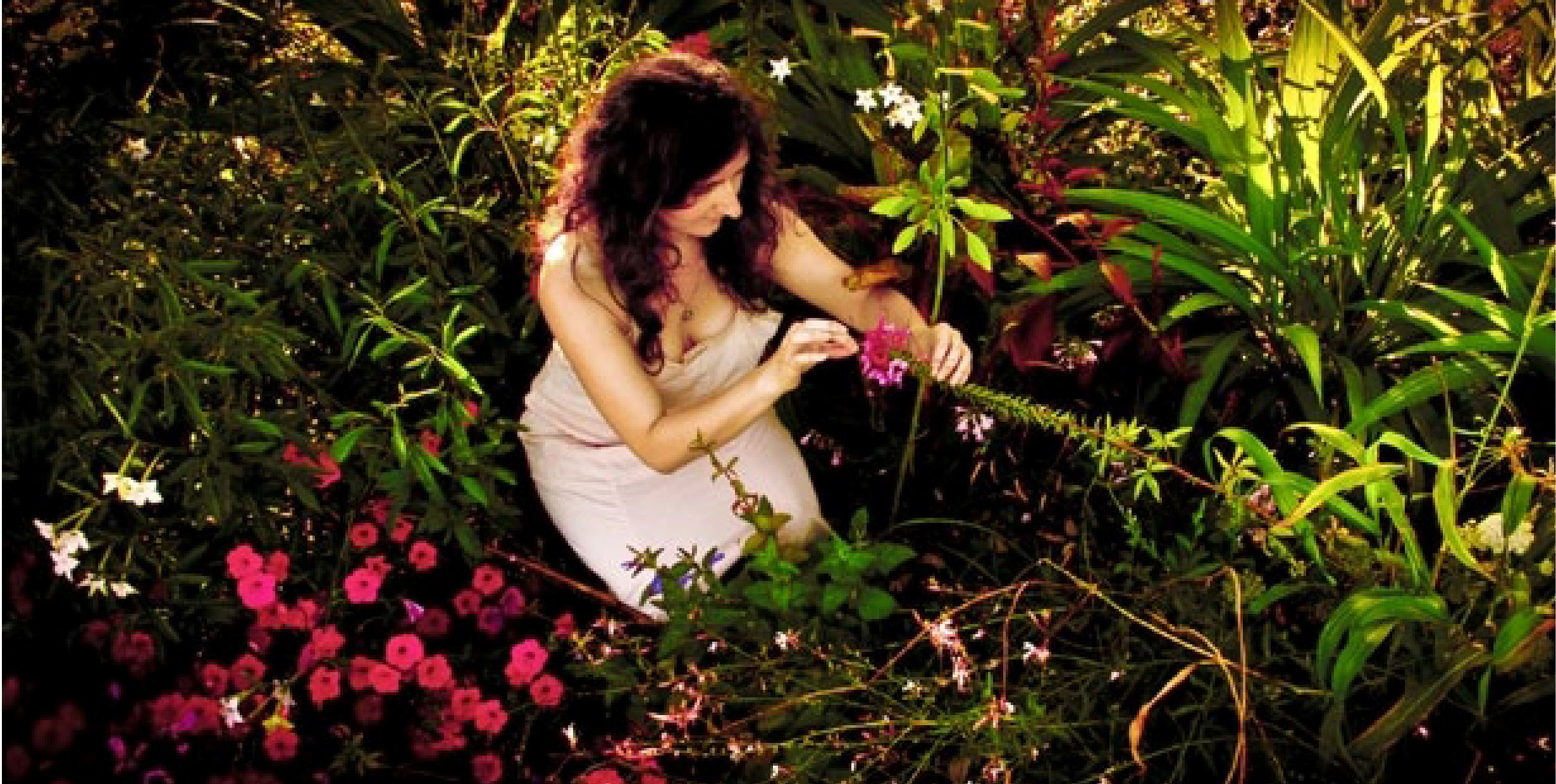 Centre d'art la Villa Arson, Nice © C. Bouissou
FLOWER - EATER
Performance
Photography
Indoor landscape garden, nightgown
Duration 2 hours
Daydream. In an inner a garden planted with flowers, Caroline Bouissou walks around in a nightgown and slowly eats all the flowers one by one until there are none left.
This performance required the study of seasonal edible flowers and how to eat them in order to design the edible garden.
Performed for
Solstitium, Villa Arson Art Center, Nice, France
with the support of the Nègre Nurseries
- ARTS, DRAC NPC
with Cécile Beau, Caroline Bouissou and Mariusz Grygielewicz
- Le Temps de l'Action - Act 1 & 2, Villa Arson Art Centre, Nice
- Edition Le Temps de l'Action, Centre d'art la Villa Arson, Nice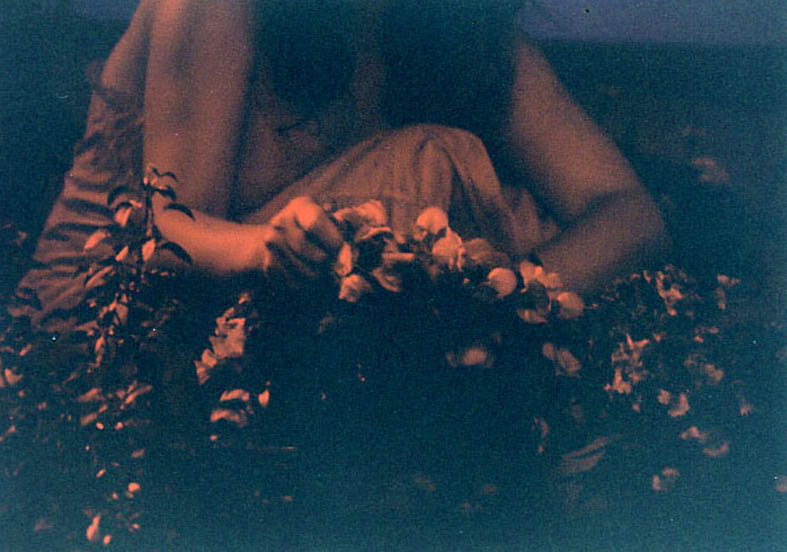 Centre d'art la Villa Arson, Nice © C. Bouissou
"Le Temps de l'Action - Acte 1 & 2
Une recherche sur l'histoire de la performance sur la Côte d'Azur de 1951 à nos jours",
art  center la Villa Arson, Nice
This exhibition is conceived as the first stage of a research project led by the Villa Arson since September 2007 on the history of performance art on the French Riviera from 1951 to the present day. This project will culminate in the summer of 2012 with the creation of an online database on the subject, a publication, and an Act 2 exhibition bringing together films, photos, objects and various documents related to this history.
with Eric Andreatta, Marcel Alocco, Antoine Alvarez, Dominique Angel, Dan Azoulay, Éléonore Bak, Marcel Bataillard, Emmanuel Benichou, Daniel Biga, Frédérik Brandi, Anna Byskov, Julien Blaine, Jean-Michel Bossini, Caroline Bouissou, Robert Bozzi, Gilbert Caty, Hervé Courtain, Michel Cresp, Michel Crespin, Robin Decourcy, Niki de Saint Phalle, Erik Dietman, Noël Dolla, Joël Ducorroy, Éric Duyckaerts, Robert Erébo, Kristof Everart, Daniel Farioli, Fred Forest, Yves Fournier, Jean-Baptiste Ganne, Olivier Garcin, Paul-Armand Gette, Doohwa Gianton, Claude Gilli, Jean-Pierre Giovannelli, Groupe Signe, Guignol's band, Yoko Gunji, Cai Guo-Qiang, Raymond Hains, Raoul Hébréard, Max Horde, Michel Journiac, Judith Kele, Jean-Noël Laszlo, Pierre Le Pillouër, Jean-Jacques Lebel, Virginie Le Touze, Jacques Lizène, George Maciunas, Denis Martinel, Jean Mas, Florent Mattei, Paul McCarthy, Médiastok, Bruno Mendonça, METCUC, Roland Miller, Elisabeth Morcellet, Patrick Moya, Georges Mucciarelli, Frédérique Nalbandian, ORLAN, Gina Pane, Gilbert Pedinielli, Philippe Perrin, René Pietropaoli, Pierre Pinoncelli, Mimmo Rotella, Claude Rosticher, Ruy Blas, Sales Gosses, Serge III, Josée Sicard, Sophie Taam, Bernard Tréal, Nicolas Uriburu, Charly Van Rest, Bernar Venet, Jean-Luc Verna, Éric Watier, Junko Yamasaki…